ONLY A DOWNSTAT:  GARY NUMAN SPOOFS

Inspired by awesome ethereal electronic music from Gary Numan, I twist and turn it into...really nasty stuff.


Gary Numan
was a British teen who anchored the band Tubeway Army in the late 70's, but he took a sharp turn from punk guitar to electronica and pioneered the use of synthesizers in pop music.  He sang much more than "Cars," and is still creating music albums to this day, with a resurgence as an industrial metal artist!  Click on his name for the official Web-site.
Pierre is a dabbler and a hack who is too smart for his own good.   Loose neurons that short out on each other at random keep him up at night.  Sometimes that's called creativity, other times, insanity.  As a young student, he thought that portable keyboards with auto-rhythm were hilarious, and noted that they got better and better over the years every time he paid CDN$300 for one.  This last one he splurged and spent CDN$800.  He was permanently warped by the Tubeway Army's album REPLICAS, and some of his demonic polka creations have been declared a Crime Against Humanity.  He is hiding out on the Pacific Island of Tonga, where he lives happily with two llamas and some mail-order sea monkeys.  His favourite colour is...hard to describe, and only present when an atoll is detonated by a nuclear bomb...

How did these peculiar music parodies get started?  My brother, my buddy and I all like the inhuman strains of Gary Numan music.  The buddy rekindled my interest in Numan by telling me about the album PURE and the accompanying concert tour.  Talking about it later, he gave me a track from The Magnetic Fields, a group which did a cover of Numan's "I Die, You Die", but with banjos.  Feeling a little goofy myself, I decided to compose on the keyboard a MIDI of Gary Numan's "Metal" in a kletzmer polka style.  Admittedly it's a little rough-cut, but that the very musical concept exists at all...Oy, gevalt!  Freely downloadable below.

And here's a second Gary Numan Parody, this time it's "Down in the Park" with an intro similar to the sappy romantic music you would have heard on the soundtrack of St. Elmo's Fire, therefore I called it "Down in St. Elmo's Park".  (NEW REVISED VERSION, throw out the old version if you got it).  This is not much of a stretch, since Gary did a pensive piano version of "Down in the Park" himself.

Here is a work in progress, "The Machman" as if Gary Numan had made music in the 1950's!  I still have to clear up mistakes and add some synthesizer swoops and things.  The MP3 is 3.63 MB:

There is more to come.  I would like to do a ragga-reggae number called "I and I Die, You Die"...

OTHER GARY NUMAN LINKS:

Big and small, in no particular order or preference...if you have a Numan Web-site and feel I am slighting you by my continued psychological warfare of refusing to mention you, let's talk...my half-dozen fans and my Dark Army of the Night will be pleased to learn about YOUR site!  Give me the correct URL and some de-tails.  Some sites have moved and I've lost them, let me know the correct links!!
--IAmGaryNuman.com: 
Mr. Jim Collins has developed two tribute albums of Gary Numan music, first THE CHURCH OF GARY NUMAN, and now THIS IS NOT ME.  Get in touch with him to get these excellent re-workings of Gary Numan's music.
--NuWorld:
  Official Gary Numan Web-site, as link above.
--NumanMe (new, new link!):
  Megasite from Numan uberfan, Richard Churchward.  Forums, discography, albums, news, all the stuff you'd expect a rabid fan to know...
New Link.
--TubeWay Days (Yahoo)
:  Discussion area for Gary Numan's "classic" period (they specify "up to May 1981").
--Gary Numan Fan:  Troy Walters' web-site is back
, with more Gary Numan remixes than before, and other Gary Numan content!
NORTH AMERICAN GARY NUMAN FAN CLUB:
Dead Link. 
Run by Jim "The Machman" Napier.  Another megasite from an uberfan, or an ubersite from a megafan, I forget which.  One of its many mysteries is why a logo for a North American fan club has a globe centered on Europe, not North America...news, views, forum, The Church of Gary Numan (Napier's own compilation of covers), and also packed with accounts of Numan concerts.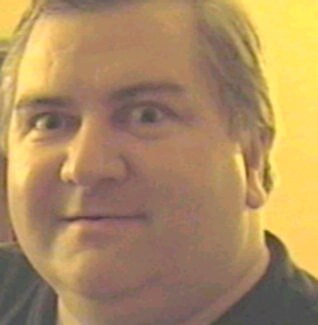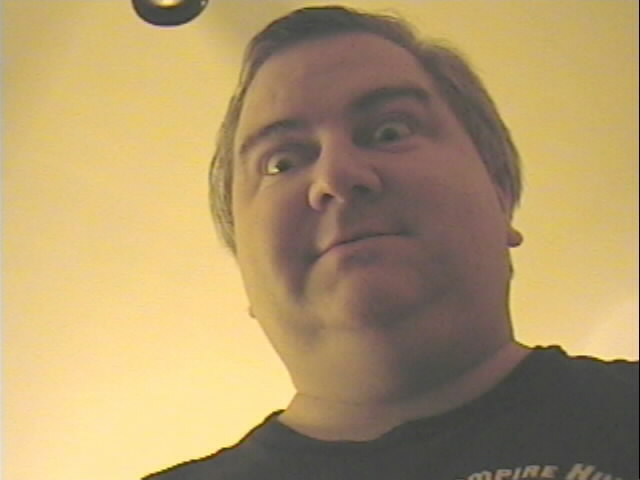 Honestly, now, who looks more evil?